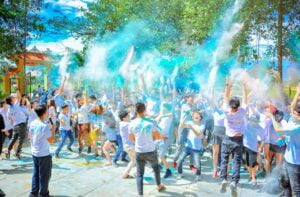 Here are the strangest festivals around the world. If you are a fan of fun, there is no doubt that you have found or participated in many festivals such as music festivals! But if you think that these festivals are real celebrations, then you are mistaken. There are a lot of great festivals that you will get to know about today. If you are looking for great places to travel to, here are the strangest festivals around the world:
Sincheon Water Festival This fun festival is undoubtedly evident in South Korea! It's the drizzle of water on hot summer days in the streets full of music and celebrations, as well as lots of wet clothes!
Mud Festival In Boryeong, South Korea The annual Mud Festival is a lot of dirt, like a water pistol festival with the addition of a little mud, music, and fireworks
Frozen Poetry Contest Canadians are known to be eccentrics, but this competition will alienate them further. The competition begins with entering a hot waterfall, wetting your hair and waiting for it to dry and harden so you can style it the way you want!
Water Music Festival USA Look at these musicians playing underwater! Does this require a more detailed explanation?
La tomatina Valencia, in Spain everyone loves tomatoes! But the spokesperson for the discoverer of this festival used to say: "We have a lot of tomatoes, so what do we do with them? Let's bathe in tomato juice and spray it on each other!"
Global finger wrestling In the UK, what can we say about wrestling? Well, first of all, it's not fake wrestling, and second it obviously includes toes! And third, we hope wrestlers wash their feet before a fight.
Floating Lantern Festival , Hawaii The most beautiful festival of all is the Floating Lantern Festival that takes place on the island of Hawaii. If you get the chance to witness this festival yourself, we guarantee amazing sights that will not be erased from your memory!
Loppuri Monkey Banquet, Thailand Imagine thousands of monkeys eating delicious fruits, ice cream, pancakes and many different foods that are specially prepared for the Lopburi Festival. There is no doubt that it is a legendary celebration for these monkeys and we assure you that you will enjoy watching them too!